Anurag Verma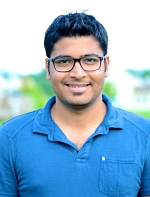 Lead Bioinformatics Scientist
A301 Richards Building
3700 Hamilton Walk, Philadelphia, PA 19104
This email address is being protected from spambots. You need JavaScript enabled to view it.

 
Current Projects
Exploring and analyzing complex trait associations in Electronic Medical Record(EMR) linked bio-repositories using Phenome-Wide Association Studies (PheWAS).
Education
        PhD Bioinformatics and Genomics
        The Pennsylvania State University
        2014-2017
MS Bioinformatics
New Jersey Institute of Technology
2008-2010
Publications
Verma A, Leader JB, Verma SS, Frase A, Wallace J, Dudek S, Lavage DR, VAN Hout CV, Dewey FE, Penn J, Lopez A, Overton JD, Carey DJ, Ledbetter DH, Kirchner HL, Ritchie MD, Pendergrass SA. Integrating clinical labaratory measures and ICD-9 code diagnosis in Phenomw-Wide Association Studies. Pac Symp Biocomput. 2016;21:168-79.
Pendergrass SA, Verma A, Okula A, Hall MA, Crawford DC, Ritchie MD. Phenome-Wide Association Studies: Embracing Complexity for Discovery. Hum Hered. 2015;79(3-4):111-23. doi: 10.1159/000381851. Epub 2015 Jul 28. PubMed PMID: 26201697.
Moore CB*, Verma A*, Pendergrass S, Verma SS, Johnson DH, Daar ES, Gulick RM, Haubrich R, Robbins GK, Ritchie MD, Haas DW. Phenome-wide Association Study Relating Pretreatment Laboratory Parameters With Human Genetic Variants in AIDS Clinical Trials Group Protocols. Open Forum Infect Dis. 2015 Jan 9;2(1):ofu113. doi: 10.1093/ofid/ofu113. eCollection 2015 Jan. PubMed PMID: 25884002; PubMed Central PMCID: PMC4396430.
Hall MA, Verma A, Brown-Gentry KD, Goodloe R, Boston J, Wilson S, McClellan B, Sutcliffe C, Dilks HH, Gillani NB, Jin H, Mayo P, Allen M, Schnetz-Boutaud N, Crawford DC, Ritchie MD, Pendergrass SA. Detection of pleiotropy through a Phenome-wide association study (PheWAS) of epidemiologic data as part of the Environmental Architecture for Genes Linked to Environment (EAGLE) study. PLoS Genet. 2014 Dec 4;10(12):e1004678. doi: 10.1371/journal.pgen.1004678. eCollection 2014 Dec. PubMed PMID: 25474351; PubMed Central PMCID: PMC4256091.
Barrie ES, Weinshenker D, Verma A, Pendergrass SA, Lange LA, Ritchie MD, Wilson JG, Kuivaniemi H, Tromp G, Carey DJ, Gerhard GS, Brilliant MH, Hebbring SJ, Cubells JF, Pinsonneault JK, Norman GJ, Sadee W. Regulatory polymorphisms in human DBH affect peripheral gene expression and sympathetic activity. Circ Res. 2014 Dec 5;115(12):1017-25. doi: 10.1161/CIRCRESAHA.116.304398. Epub 2014 Oct 17. PubMed PMID: 25326128; PubMed Central PMCID: PMC4258174.
Kim D, Shin H, Sohn KA, Verma A, Ritchie MD, Kim JH. Incorporating inter-relationships between different levels of genomic data into cancer clinical outcome prediction. Methods. 2014 Jun 1;67(3):344-53. doi: 10.1016/j.ymeth.2014.02.003. Epub 2014 Feb 18. PubMed PMID: 24561168; PubMed Central PMCID: PMC4664202.
Patel V, Wang JT, Setia S, Verma A, Warden CD, Zhang K. On comparing two structured RNA multiple alignments. J Bioinform Comput Biol. 2010 Dec;8(6):967-80.
Conferences
Verma A, Leader JB, Verma SS, Frase A, Wallace J, Dudek S, Lavage DR, VAN Hout CV, Dewey FE, Penn J, Lopez A, Overton JD, Carey DJ, Ledbetter DH, Kirchner HL, Ritchie MD, Pendergrass SA. Integrating clinical labaratory measures and ICD-9 code diagnosis in Phenomw-Wide Association Studies. at 2016 Pacific Symposium of Biocomputing, Big Island, Hawaii, USA
Anurag Verma, Shefali S. Verma, Sarah A. Pendergrass, Dana C. Crawford, David R. Crosslin, Helena Kuivaniemi, William S. Bush, Yuki Bradford, Iftikhar Kullo, Sue Bielinski, Rongling Li, Joshua C. Denny, Peggy Peissig, Scott Hebbring, Elizabeth Pugh, Mariza de Andrade, Marylyn D. Ritchie, Gerard Tromp. eMERGE Phenome-Wide Association Study (PheWAS) Identifies Clinical Associations and Pleiotropy for Functional Variants at 2015 Translational Bioinformatics Conference, Tokyo, Japan (Platform Presentation)
Anurag Verma, Shefali S. Verma, Sarah A. Pendergrass, Dana C. Crawford, David R. Crosslin, Helena Kuivaniemi, William S. Bush, Yuki Bradford, Iftikhar Kullo, Sue Bielinski, Rongling Li, Joshua C. Denny, Peggy Peissig, Scott Hebbring, Elizabeth Pugh, Mariza de Andrade, Marylyn D. Ritchie, Gerard Tromp. eMERGE Phenome-Wide Association Study (PheWAS) Identifies Clinical Associations and Pleiotropy for Functional Variants at 2015 Biology of Genome, Cold Spring Harbor, New York, USA (Poster Presentation)
Anurag Verma, Shefali S. Verma, Sarah A. Pendergrass, Dana C. Crawford, David R. Crosslin, Helena Kuivaniemi, William S. Bush, Yuki Bradford, Iftikhar Kullo, Sue Bielinski, Rongling Li, Joshua C Denny, Peggy Peissig, Scott Hebbring, Elizabeth Pugh, Mariza de Andrade, Marylyn D. Ritchie, Gerard Tromp eMERGE PhenomeWide Association Study (PheWAS) Identifies Clinical Associations and Pleiotropy for Functional Variants at 2014 American Society of Human Genetics, San Diego, USA (Poster presentation)
Anurag Verma*, Carrie Buchanan Moore*, Dan Johnson, Sarah A. Pendergrass, David Haas, Marylyn Ritchie A Phenome-Wide Association Study of Numerous Laboratory Phenotypes in AIDS Clinical Trials Group (ACTG) Protocols at 2014 American Society of Human Genetics, San Diego, USA (Poster presentation)
Anurag Verma*, Carrie Buchanan Moore*, Dan Johnson, Sarah A. Pendergrass, David Haas, Marylyn Ritchie A Phenome-Wide Association Study of Numerous Laboratory Phenotypes in AIDS Clinical Trials Group (ACTG) Protocols at 2014 International Genetic Epidemiology Society conference, Vienna, Austria (Platform presentation)
Carrie Buchanan Moore, Anurag Verma, Dan Johnson, Sarah A. Pendergrass, David Haas, Marylyn Ritchie An exploration of multiple traits within the AIDS Clinical Trials Group (ACTG) Using A Phenome-Wide Association Study (PheWAS) at 2013 P-STAR Analysis Workshop , Nashville, TN (Platform Presentation)
Carrie Buchanan Moore, Anurag Verma, Dan Johnson, Sarah A. Pendergrass, David Haas, Marylyn Ritchie An exploration of multiple traits within the AIDS Clinical Trials Group (ACTG) Using A Phenome-Wide Association Study (PheWAS) at 2013 American Society for Human Genetics(ASHG) Conference, Boston, MA (Poster Presentation)
Anurag Verma, Helena Kuivaniemi , Gerard Tromp, David J. Carey, Glenn S. Gerhard, James E. Crowe, Jr., Marylyn D. Ritchie, Sarah A. Pendergrass Exploring the relationship between Immune System Related Genetic Loci And Complex Traits and Diseases through a Phenome-Wide Association Studies(PheWAS). at 2013 American Society for Human Genetics(ASHG) Conference, Boston, MA (Poster Presentation)
Anurag Verma, Helena Kuivaniemi , Gerard Tromp, David J. Carey, Glenn S. Gerhard, James E. Crowe, Jr., Marylyn D. Ritchie, Sarah A. Pendergrass Exploring the relationship between Immune System Related Genetic Loci And Complex Traits and Diseases through a Phenome-Wide Association Studies(PheWAS). at 2013  International Genetic Epidemiology Society (IGES) Conference, Chicago, IL (Poster Presentation)
M.A. Hall, A. Verma, K.D. Brown-Gentry, R. Goodloe, J. Boston, S.A. Pendergrass, D.C. Crawford, M.D. Ritchie. 2012. A Phenome-Wide Association Study (PheWAS) using multiple National Health and Nutritional Surveys (NHANES) to identify pleiotropy. at  2012 American Society for Human Genetics (ASHG) Conference, San Fransisco,CA (Poster Presentation)